ABOUT NEW LIFE
Partnership
Caring Company 2015/2016
This year, the Association nominated 46 companies and organizations for the Caring Company Scheme. All of them were successfully awarded the Caring Company Logo and we were grateful for their staunch support. We also participated in the Caring Company Partnership Expo on 10 May 2016 to introduce our volunteering opportunities through booth exhibits. We sincerely look forward to creating more concerted efforts with partner companies and organizations in the future.
Companies and Organizations successfully nominated by the Association in Caring Company 2015/2016
Agriculture, Fisheries and Conservation Department
ARA Asset Management (Fortune) Limited – Fortune City One Plus
ARA Asset Management (Fortune) Limited – Hampton Loft
ARA Asset Management (Fortune) Limited – Jubilee Square
ARA Asset Management (Fortune) Limited – Ma On Shan Plaza
ARA Asset Management (Fortune) Limited – Metro Town Shopping Mall
ARA Asset Management (Fortune) Limited – Oceanaire
ARA Asset Management (Fortune) Limited – Sausalito
ASM Pacific Technology Limited
Circle K Convenience Stores (HK)Limited
Composers and Authors Society of Hong Kong Limited
Coils Electronic Company Limited
Deerhill Bay Management Limited
Fung Kids (Hong Kong) Fashion Limited
Goodwell Property Management Limited
Goodwell-Prosperity Property Services Limited
Hang Yick Properties Management Limited (A Member of Henderson Land Group)
HKOMall Limited
Hongkong Land
InterContinental Hong Kong
Island South Property Management Limited
Jardine Airport Services Limited
Jebsen & Company Limited
Kai Shing Management Services Limited
Kerry Holdings Limited
Kee Wah Bakery Limited
KML Engineering Limited
Lane Crawford (Hong Kong) Limited
LSG Catering China Limited
Mediart Associate Limited
Millions Treasure Limited
New Life Support Enterprises Limited
NIKE 360 HOLDING B.V.
Nikkei Japanese Language School Limited
NWS Holdings Limited
Prince of Wales Hospital
Portofino Management Limited
Sui Hing Chemical Company Limited
The Hongkong Electric Company Limited
The Paramount Management Limited
TNT Production Limited
UPS Parcel Delivery Services Limited
Vista Paradiso Property Management Limited
Western Union Business Solutions (Hong Kong) Limited
Yummy House International Limited
Zung Fu Company Limited
Partnership with Corporations
InterContinental Hong Kong
This was the 3rd year of the "New Life" Gingerbread House fundraising project. During the Christmas season in 2015, InterContinental Hong Kong (ICHK) supported the Association by building a gingerbread house in the hotel's lobby. The hotel's guests were encouraged to purchase personalized gingerbread bricks to decorate the house. Christmas hampers with cookies and healthy food made by our people in recovery from mental illness (PIR) were also sold to raise funds. Around $150,000 was raised for the Association to support community mental health services for PIR. In addition, 21 colleagues from ICHK have paid the home visit to the TWC (Yau Tsim Mong) members and their families on July 29, 2016 with small gifts.
Jardine Matheson Group
To raise funds for MINDSET to promote mental health, the annual charity event CENTRAL Rat Race was held on October 16, 2016. As in previous years, the Association supported this meaningful event by sending a team consisted of 22 service users from residential services to participate in the "NGO Rat Race".  This year, the cheering team costume was specially design with an outlook of Rat-like Avengers. 12 cheering members were dressed up as a team of "Mice-vengers" to promote public awareness and support to fight against stigmatization for more inclusive society. Service users and Jardine Ambassadors joined together on the cheering team and their vivid and lively appearance motivated passers-by to take photos with them. Our cheering team was awarded the "Best Dressed NGO Cheering Team Award".
Last year, the Jardine Ambassadors once again organized various programs for our service users, promoting inclusion through events such as MINDSET Fun Day, a singing contest, a puppet workshop, and a job preparation skills workshop.
Jardine Aviation Services Limited
As our long-term partner, Jardine Aviation Services Limited (JAS) had always encouraged their volunteers to communicate about mental health to colleagues, families and friends in order to raise awareness about mental illness issues in society. This year, JAS co-organized a series of activities with the Association including a visit to a farm, airport tour, bowling fun day and food sharing project. In addition, JAS organized internal fundraising activity with more than 500 staffs participated in. A total $102,133 was raised for improving the facilities at our self-financed hostel – Yin Yuet Hin and Yuet Wo House. The Cheque Presentation Ceremony was held on 16 August, 2016.
Kinetix Systems Limited
Kinetix Systems Limited donated fresh organic vegetables and healthy foods to Tuen Mun Food Sharing Project and 20 staff also joined the volunteer activity for distributing food to around 100 beneficiaries on August 19, 2016. In addition, they organized Mid-Autumn Festival lantern making workshop for 20 PIR at New Life Building Long Stay Care Home with 15 staff participated in on September 17, 2016.
New World First Ferry Services Limited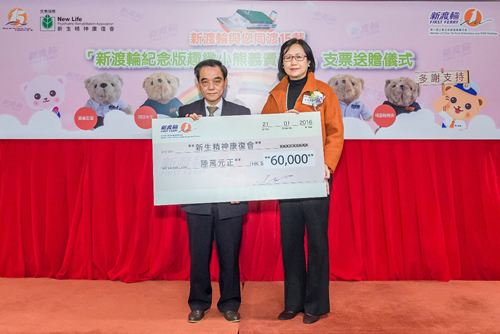 To celebrate its 15th Anniversary, New World First Ferry Services Limited (NWFF) specially designed the First Ferry Bears (Anniversary Edition) for charity sale. The Bears were incorporated with rwb330 elements and sold in our social enterprises. A total of $60,000 was raised for the Association. The Cheque Presentation Ceremony was held on 21 January, 2016.
Nikkei Japanese Language School
On May 25, 2015, Nikkei New Life Charity Conversation Day celebrated its 7th Anniversary. This year, Nikkei's students not only practiced Japanese, but through booth sales and DIY activities, they gained a better understanding of the abilities of PIR. With the active support and participation of 111 volunteers, including teachers, students and staff, the event raised $150,525.
UPS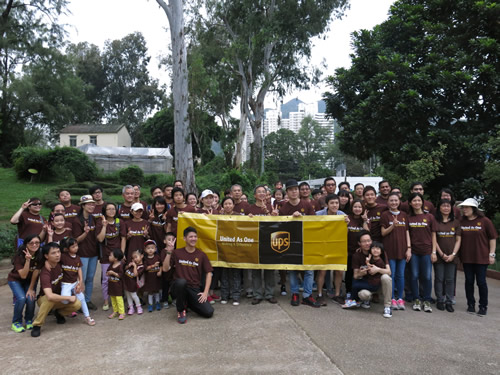 UPS donated $251,900 (USD$32,471) to New Life Farm for a 2-year project to support New Life Farm, and also donated organic vegetables to service recipients under a Food Sharing Project. For the second consecutive year, in October 2015 the UPS' Global Volunteer Month, the company extended support to PIR by volunteering at New Life Farm, the Food Sharing Project of Wong Tai Sin District and at the Kwai Shing Sheltered Workshop.
If your company would like to be one of the corporate partners of NLPRA, please contact our Corporate Affairs Department via e-mail corporate_affairs@nlpra.org.hk or phone (Tel: 2332 4343). We are always pleased to discuss and formulate volunteer plans together with you.